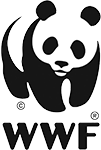 World Wide Fund for Nature (WWF)
Julia Young, Global Forest & Trade Network Manager at WWF-UK, said:
"Wood has many natural advantages. It's durable, versatile, aesthetically pleasing, biodegradable and, if forests are well managed, renewable. Some wood products have a long working life - wooden construction materials can last hundreds of years and are usually produced with less energy and pollution than those made from alternative materials."